Construction Technology trends for 2021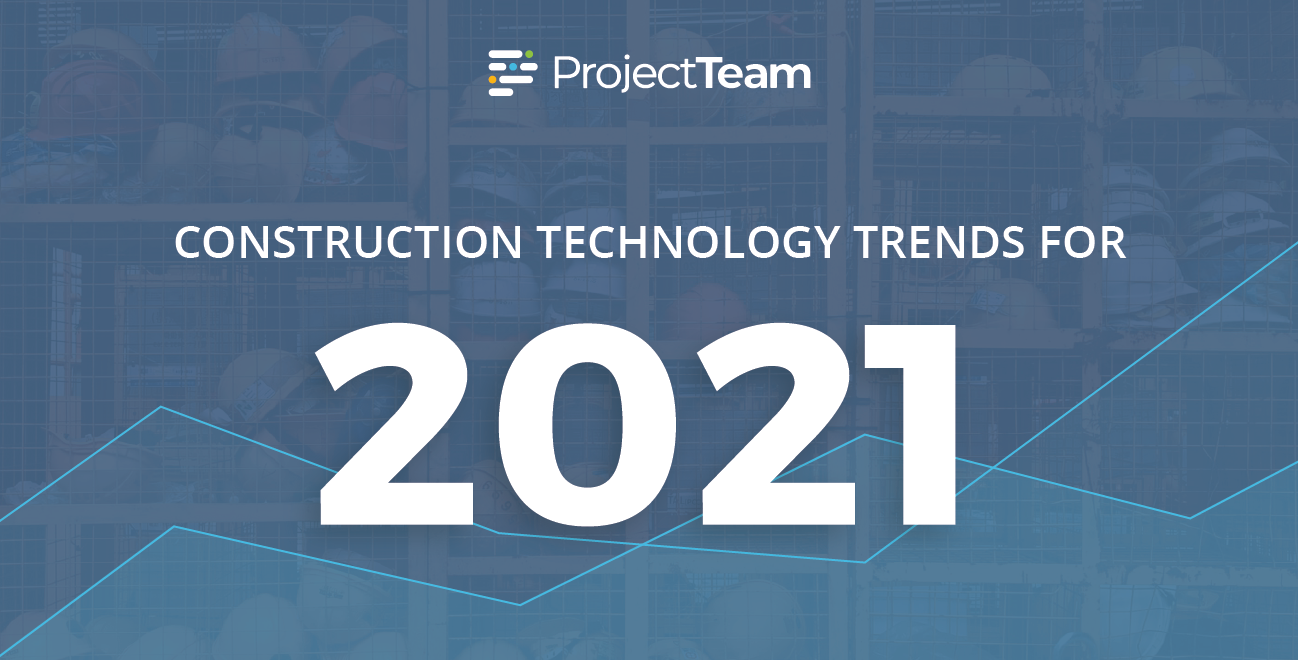 Construction Technology trends for 2021
When people talk about innovative industries, construction is rarely brought into that conversation. But things are changing, and changing quickly. 2020 was one of the toughest years in history for the industry, and there is a lot of uncertainty moving into 2021. Now more than ever, construction professionals are leaning on technology to ensure project success.
This year will continue to bring major changes to the industry. The list below outlines four of the major factors in those advancements.
1. Cloud Technologies
Even in 2021, the term "cloud" can still be a little scary for some people, especially in construction. Although the term "cloud" seems to be everywhere these days, you will still find a lot of people that don't really know what it means. Simply put, "cloud computing" means accessing information and applications over the Internet instead of having everything on your computer's hard drive. In a post by Salesforce in 2020, they outline twelve benefits of cloud computing.
The benefits of cloud technology include cost savings, flexibility, insight, disaster recovery, automatic software updates, increased collaboration, security, competitiveness, and many others. Utilizing the cloud saves you both time and money, two things worth their weight in gold for any construction project.
💡 If you're not in the cloud, you're simply falling behind.
2. Emphasis on Collaboration
The ability to collaborate efficiently on any project, particularly in construction, is vital to the overall success of that project. Owners, architects, engineers, and contractors all need to work together productively to make sure their project is getting done on time and within budget. As you know, that's easier said than done. With so many moving parts on any given day, everyone must be on the same page. Companies are moving away from legacy project management solutions to more collaborative project solutions, like ProjectTeam.
Because of COVID-19, the term "social distancing" has become popular no matter where you turn. Even on construction projects, where there has always been a focus on safety, people are being encouraged to take extra safety precautions on their sites. Collaboration plus social distancing means you need a system in place to keep track of documents and conversations that used to be had in the field.
Investing in a best-in-class project management information system (PMIS) can make a huge difference in the overall efficiency and productivity of your construction team. You need a system that your users enjoy logging into which maximizes your return on investment (ROI).
3. Mobility
Construction projects are built in the field. Sure, there is a lot of planning that goes into any project, and a lot of that may be done back in an office building, but the real work is done in the job trailer and on the site.
The ability to access project information from your mobile device is extremely important. While working in the field, there is nothing more frustrating than hitting a roadblock because you don't have enough information to continue work. Too much time is wasted looking for information back in the office storage cabinets, project binders, old emails, etc.
While some construction platforms offer limited "field apps", it's important to have ALL project data at your fingertips. With the continued improvement of internet ubiquity, people are less reliant on disconnected mobile apps and can work with more web-based platform applications that don't require you to sync data back and forth. With tools like ProjectTeam, you can check in on job site progress, schedule, and costs from wherever you happen to be.
4. Exact Fit Solutions
If you're reading this post, you must have at least some interest in learning about the latest and greatest in construction project technology. The hub of your technology stack starts with your project management information system (PMIS). Investing in a PMIS is a bid deal and the wrong decision can have a disruptive impact on your organization.
No two organizations are the same, and each has unique requirements for tracking project information. Your project management solution must be flexible enough to hold the data fields that are most important to your organization's success. Investing in a rigid solution quickly results in your team tracking half your information in the system and the other half in your old spreadsheets, word documents, and emails eliminating the full benefit of your initial intent.
ProjectTeam is an "exact fit solution" meaning you can mold the platform to fit your business needs instead of molding your business to fit a rigid system. You can accomplish in a few different ways:
Rename and reorder system fields on out-of-the-box forms
Add custom fields to any form to track organization or project specific data
Create custom forms to help organize important groups of project data
Build custom reports and/or dashboards to highlight project objectives and alerts
---
Are you interested in making 2021 your most successful year yet when it comes to construction project management?
Register for a customized demonstration of ProjectTeam to find out how your company can start crushing your project goals.