July 2021 Webinar Recap - Here's what you missed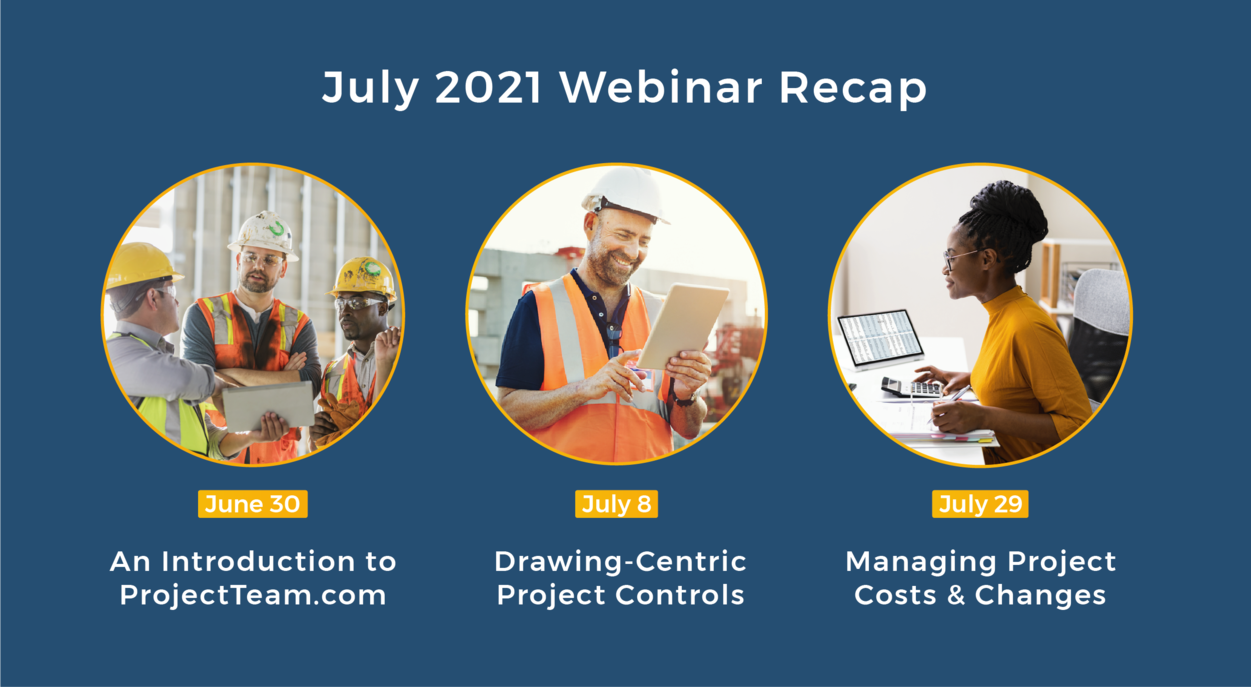 July 2021 Webinar Recap - Here's what you missed
At ProjectTeam, we are always looking for new ways to provide value to our clients and others interested in learning more about what we offer. Starting in June and going until the end of the year, we decided to host two in-depth training webinars per month to help you get a deeper understanding of everything ProjectTeam.com can do to help you on your projects.

We've put together a recording of each presentation for you below in case you weren't able to attend or you'd like to watch a topic of interest again.
July 30 - An Introduction to ProjectTeam.com
In this webinar, we focused on understanding the basics of ProjectTeam.com including general navigation, commonly-used features, simple customizations, and more. This is the perfect starting point for anyone just getting to know ProjectTeam.com.
July 8 - Drawing Centric Project Management
In this webinar, we took a deep dive into managing Drawings and Drawings Packages in ProjectTeam.com. You'll learn how to use OCR technology to quickly extract information from your Drawing sheets and add collaborative markups such as shapes, text, pins, and measurements.
July 29 - Managing Project Costs and Changes
In this webinar, we explored ways to manage Contracts, Change Orders, PCOs, RFPs, Cost Proposals, and Payment Applications in ProjectTeam.com. Near the end of the webinar, we also went through a couple of reports and showed how to output those reports to PDF, Excel, CSV, and more.