June is National Safety Month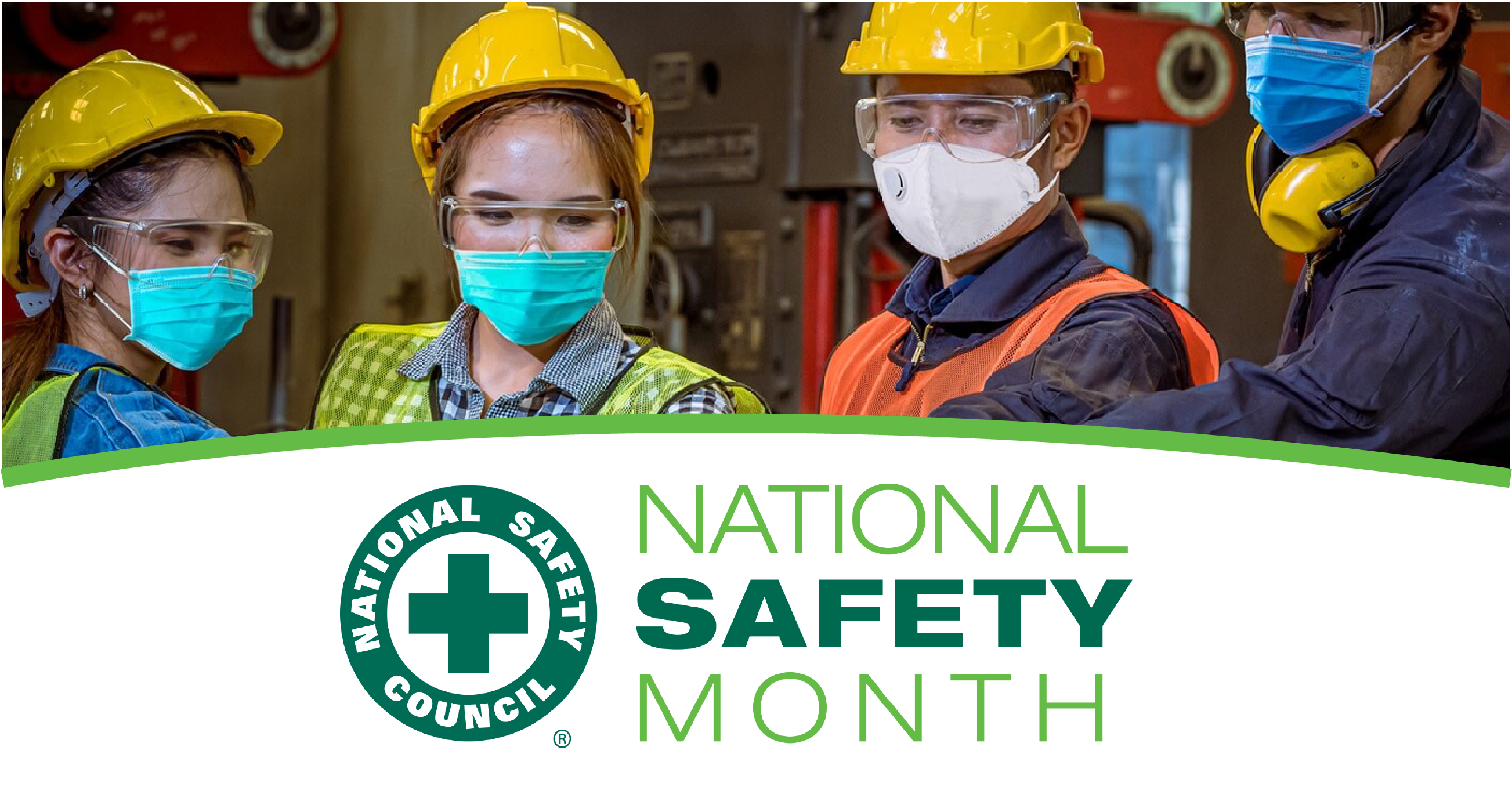 June is National Safety Month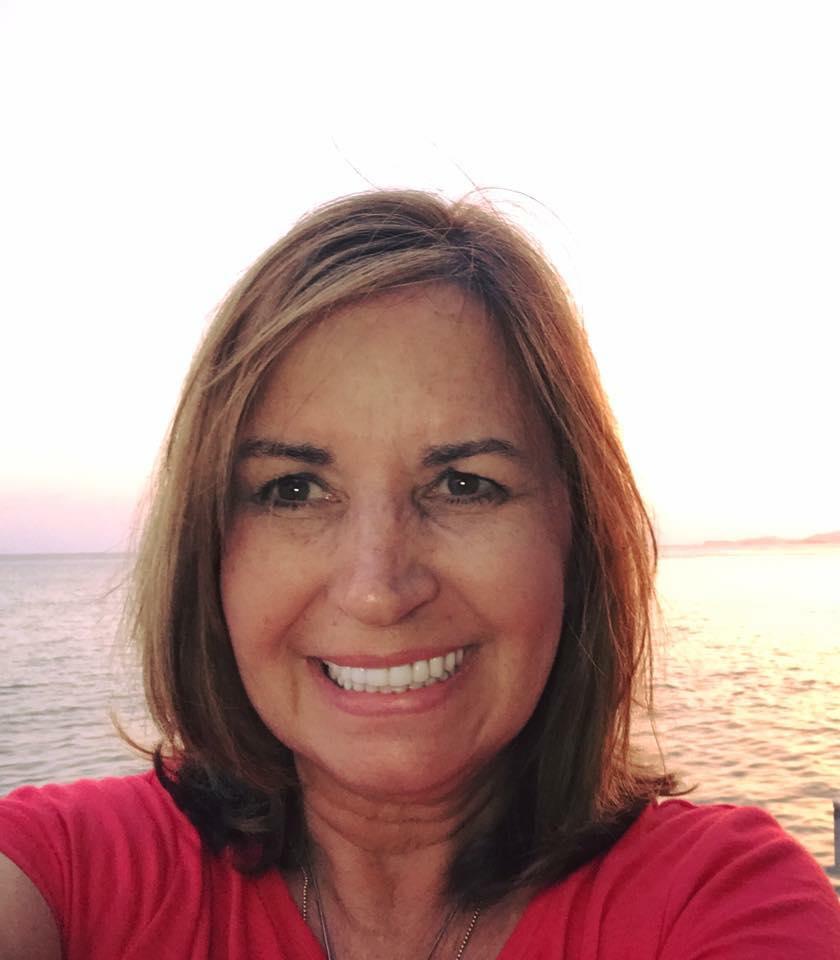 Susan Mills
In 1996, the National Safety Council (NSC) established June as National Safety Month in the United States. Often referred to as "Summer Safety Month", the goal is to increase public awareness of the leading safety and health risks and decrease the number of avoidable injuries and deaths both at home and in the workplace.
The end of June starts the first official month of summer which means more time outside in higher temperatures. Moderating your exposure to heat goes beyond reapplying sunscreen and covering up. You will want to take extra steps to avoid being outside for long periods in the sun and heat, especially during the peak hours of strongest ultraviolet (UV) rays, during the hours of 10 a.m. to 4 p.m.
The following are summer safety tips to keep you and your project teammates safe:
Stay Hydrated
Dehydration is one of the biggest safety concerns during the summer months. Be sure to drink enough liquids throughout the day, as our bodies can lose a lot of water through sweat when it gets hot out. A good rule of thumb is to drink water every 15-30 minutes, even if you're not thirsty, and try to avoid caffeine and alcohol. Proper hydration begins at home even before you enter the job site. Maintaining good hydration habits both on and off the clock is the best plan.
Heat stress and illness can show many symptoms that should never be ignored. The Occupational Safety and Health Administration (OSHA) offers diagrams below to help monitor signs of illness. If you notice someone on your project exhibiting any of these symptoms, action should be taken to help cool the person down and get them rehydrated. Emergency personnel should be contacted if needed.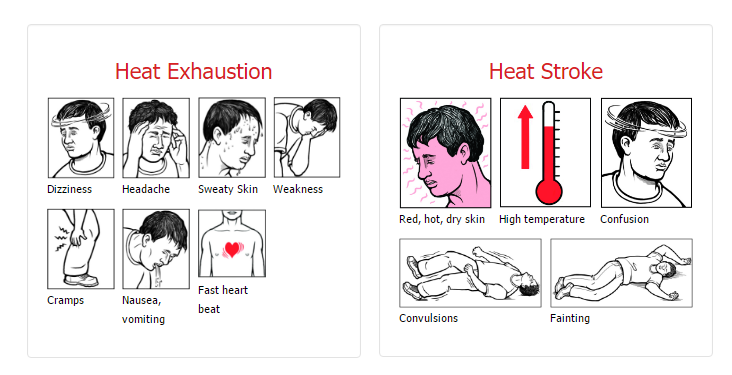 When working in hot temperatures, make sure to watch for these symptoms of heat illness. Image courtesy of OSHA
Identify and report hazards on the job site
Construction organizations are shifting from top-down safety programs to making safety more of a team effort. Job sites and office environments where everyone is actively engaged in up-to-date safety practices are ideal. As COVID-19 has dominated the headlines over the past year, employers have been providing more frequent safety training, toolbox talks, and general education seminars. Those practices should continue into the summer months especially as states start to ease restrictions on social distancing and mask-wearing.
Reducing slips, trips, and falls
According to OSHA, falls are the most common accident on construction sites and the leading cause of death. Falling from the roof of a structure is the most common type of fatal fall. Lack of fall protection is the number one violation of OSHA standards and lack of training for fall protection was in the top 10.
Fall protection such as warning signs, barricades, safety nets, covers, and guardrails can help reduce falls. Your team should have a plan in place for all of the above before sending someone up a structure to minimize the chance of an accident.
Slips are another leading cause of injury on construction job sites. It's important to clean up any spills as soon as they occur or put up warning signs to increase awareness. Be vigilant to keep your project clean and clear of clutter, such as miscellaneous tools and scraps, which can cut down on incidents.
You can read more about National Safety Week on the nsc.org website. They have weekly topics that they will be reviewing throughout June 2021 including:
Week 1 - Prevent Incidents Before They Start: Identifying risks and taking proactive safety measures to reduce hazard exposure on important topics from ergonomics to chemical management is crucial to creating a safe workplace.

Week 2 - Address Ongoing COVID-19 Safety Concerns: As the pandemic continues, employers play an important role in the return to physical workspaces, building trust around vaccines, mental health and so much more.

Week 3 - It's Vital to Feel Safe on the Job: Being able to be one's self at work without fear of retaliation is necessary for an inclusive safety culture. Leading organizations focus not only on physical safety but psychological safety as well.

Week 4 - Advance Your Safety Journey: Safety is all about continuous improvement. Whether organizationally or individually, NSC can help provide guidance for your path forward.
Tracking Safety in ProjectTeam
There are many ways to track your safety initiatives in ProjectTeam. Through custom forms, you can create an unlimited number of Safety forms and templates to help you and your team track safety concerns on your projects. In your forms, you can set up checklists, surveys, and rich text responses to make sure everyone on your project is following the recommended guidelines and staying safe.
If you'd like to learn more about how ProjectTeam can help make your project documentation more efficient, schedule a free demo today: