How to switch project solutions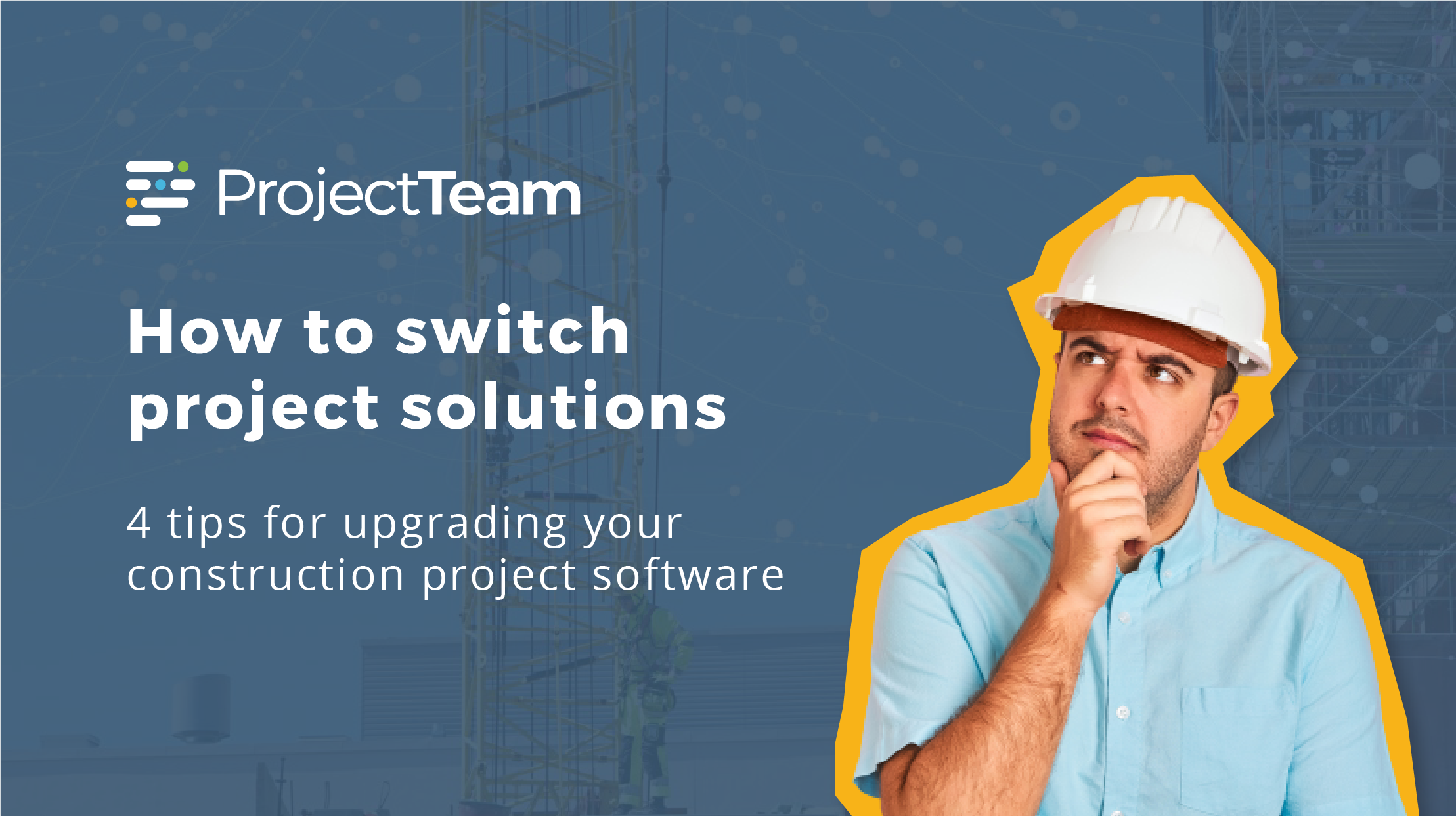 How to switch project solutions
Jack DiBattista
There are a lot of options when it comes to project management software, even just in the O/AEC industry. According to a recent study by Software Advice, there are over 230 project management software options that can be used for construction projects (pretty overwhelming). Going from no software to new software is a no-brainer, but people often have concerns about moving from one software to another.
As you know, investing in a best-in-class project management solution can make a huge impact on the overall efficiency and productivity of your construction team (read more about how to calculate return on investment in a previous blog post).
If you and your team are already using a construction project management solution, you may be anxious about changing platforms. However, ProjectTeam provides many helpful features and services to ease your transition.
The first fact to understand is that every solution is different. When you move from one solution to another, there are going to be features that you might miss - especially at first. Nobody likes change, and that's why it is so hard for so many. There's a famous quote that says "change is hard at first, messy in the middle, and gorgeous at the end." This is certainly true for construction management software.
This is where ProjectTeam becomes such a good option for so many organizations. ProjectTeam has the features you need, it's easy to use, and most importantly, you save money.
Addressing Concerns
#1 Should we migrate our data?
The first decision you need to make is if you want to migrate your data. Depending on the level of use within your old application, there may be many thousands of records and documents that you will need to decide if you want to simply archive or migrate. Your decision will help you decide if you are going to bring existing projects over to your new solution or just start new projects in your new solution. There are pros and cons to each approach, you will just need to decide what is best for you. At ProjectTeam, we have many examples of migrating data. One example is from DC DGS in which we migrated over 400 existing projects from their legacy project systems into ProjectTeam. There can be many complicated cases for migrating data, but ProjectTeam's configurable forms and robust integration platform help make it easier.
#2 Where do we put our data?
During the transition process, one of the biggest concerns is where to store data if the new system doesn't have a spot for it. In ProjectTeam, you can extend the default functionality of prebuilt forms by adding custom fields. You can also build new custom forms for unique requirements. Therefore, when moving to ProjectTeam, there's always a place for your data. Customizing ProjectTeam is simple to do, and there is no extra cost for adding fields and forms. Before setting up custom forms to match your old project system, you'll want to identify goals and understand why you are making the move in the first place. You probably don't want to "junk up" your new solution with processes you are moving away from in the first place, so you should make a checklist of data that you want to migrate vs data you don't care as much about.
#3 How long does is it take to get started in ProjectTeam?
ProjectTeam is a robust construction project management application that has a lot of features and flexibility. However, getting started in ProjectTeam is easy to do. We typically recommend starting with one or two pilot projects to help your team identify the best way to use the solution. From there, you can configure best practices into a project template and create new projects from your template. On average, companies can expect to be implemented within one or two months of use. The time depends on how organized your processes are and your understanding of what cloud-based technologies like ProjectTeam can offer.
#4 What's next?
If you're still exploring options and researching project management solutions, I encourage you to download our "Construction Project Management Software Buyer's Guide" (link below). The guide has over 20 pages of real-world use cases and examples to help you make the best decision for you and your team. If you're ready to learn more about what ProjectTeam can do, feel free to request a live demonstration with one of our product specialists.